About The Armored Group Company
Learn the history of The Armored Group and the future of armored and non-armored SWAT vehicles
The Armored Group, LLC (TAG) began in 1992. At the time, our focus was exclusively on the Cash-In-Transit (CIT) business and our goal was simple: to regard each client with the highest level of respect by delivering to them the ultimate in safety within every vehicle we built. We also maintained the flexibility that would ensure that we could meet each of their individual needs.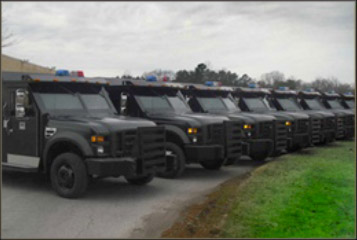 After establishing ourselves as the leading builder of Cash-In-Transit vehicles in America, our focus expanded into two other distinct markets. The first was Law Enforcement with and emphasis on SWAT, Police and Tactical vehicle manufacturing. The second was comprised of the high-end passenger vehicles and SUV's for private and corporate clients from around the world. After being awarded a contract to armor the Toyota and Land Cruiser for the United Nations (UN) worldwide, we made the leap into the international market and haven't looked back
Our global company is specialized in developing and marketing armored vehicles in both the domestic United States and International markets. The diversity our multiple manufacturing locations offer along with our specialization abilities ensure that our customers always receive a vehicle best suited to their individual needs. With sales and servicing locations in multiple countries, we are always capable of being proactive in addressing the needs of our customers.
By sharing knowledge between our plants, sales and servicing locations in these different countries, we can stay abreast of new and changing technology as well as safety and security issues. We are proficient in assessing what works and what does not work, and take pride in our ability to make the rapid changes necessary to fit the needs of our customers.
As a long time member of the Independent Armored Car Operator's Association (IACOA), The Armored Group, LLC takes an aggressive approach in our constant effort to increase safety for our cash movers. We are GSA approved and have built for the U.S. Army, The United Nations, foreign governments, and many multinational companies like General Dynamics, B.A.E., Caterpillar, KBR, Brinks, DynCorp, G4S, and Exxon Mobile.
We employ over 100 specialized personnel, and maintain three manufacturing plants located in Canada, Dubai and Detroit, MI. Each of our production facilities are ISO 9001 certified and managed by fully qualified and experienced professionals. We are equipped to serve customers and fulfill orders around the world.