The Armored Group, LLC specializes in the custom design and manufacture of state-of-the-art FBI SWAT vehicles, such as bulletproof trucks and vans. From reliable riot control solutions to vehicles that can handle covert surveillance operations involving high-tech tools and apparatus, we offer a vast array of different armored and non-armored tactical, security and military vehicles. In addition, we also have a large selection of used armored vehicles for sale that will help you to survive even the most life-threatening scenarios.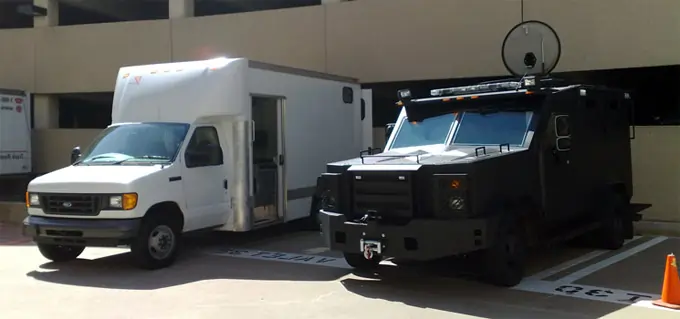 Every one of our specialized FBI and Police SWAT vehicles has been rigorously tested to ensure their levels of durability and versatility, meaning that our long-lasting commercial armored trucks, SUVs and vans are all you will ever need when you require a distinct tactical advantage over the enemy. Our Police and FBI tactical vehicles are suitable for all types of hazardous commercial, security and military settings, offering you THE last line of defense when you need it the most.
The experts at The Armored Group, LLC are ready to talk with you today about all manner of brand new, used and refurbished commercial armored and non-armored vehicles, including:
Prisoner transport vehicles
Bulletproof money transport vehicles
Armored bank trucks and cash-in-transit trucks
Armored Tacoma, GM and Toyota trucks
Outfitted Ford E-350 or E-450 vans
Tactical trucks, vans and SUVs
Police cars and other vehicles
EOD (Explosive Ordnance Disposal) trucks used for bomb disposal
FBI SWAT Chevrolet Suburbans and C3500 vans
SWAT vehicles, including BATT (Ballistic Armored Tactical Transport) and RDV (Rapid Deployment Vehicles) models
BATTs are available in 2-door, 4-door and 6-door models. The 6-door model is constructed with a Ford Super Duty chassis
All RDVs can be fully customized for various situations and environments, including mobile command centers and portable crime labs. They can even be designed to look like a vehicle from local plumbing, cable or electric companies, ensuring that you and your team remains undetected as your intended targets is observed and tracked.
It is not an exaggeration to say that The Armored Group's commercial armored and non-armored vehicles have been genuine lifesavers to brave individuals who find themselves in the line of fire, and we are honored to help in any way to reduce threats and make the world a better, safer place. Our designers and installers have the knowledge and skills to transform any mainstream vehicle into a discreet undercover vehicle for stakeouts and inspection/supervision assignments. We use modern laser manufacturing equipment and CAD-CAM engineered systems to create the finest tactical vehicles on the planet for all your defense, protection and surveillance needs.
When lives are in danger, you can depend upon commercial armored vehicles from The Armored Group, LLC. We have worked diligently over the years to guarantee 100 percent customer satisfaction, and no job is too difficult or time-consuming. Our armored security vehicles have been purchased by businesses, governments and military agencies from around the globe. If you are in the market for tactical FBI SWAT vehicles in both armored and non-armored formats of trucks, vans and SUVS that can endure even the most aggressive attacks, please contact us online or call 1-602-840-2271 for more information.